Location » Home

»

Grades > Stainless Steels > X10CrNi18-8, 1.4310, 301, 301S21, Z12CN17-07
EN X10CrNi18-8, 1.4310, 301, 301S21, Z12CN17-07 Details
EN X10CrNi18-8, 1.4310, 301, 301S21, Z12CN17-07 Standard Download
X10CrNi18-8, 1.4310, 301, 301S21, Z12CN17-07 Application:Steel wire for mechanical springs - Part 3: Stainless spring steel wire

Category
Type
Grade
Microstructure
Designations
Grades
Stainless Steels
X10CrNi18-8, 1.4310, 301, 301S21, Z12CN17-07
Austenite
European - EN , EN 10088-1 - Stainless steels - Part 1: List of stainless steels
EN 10088-2 - Stainless steels - Part 2: Technical delivery conditions for sheet/plate and strip of corrosion resisting steels for general purposes
EN 10088-3 - Stainless steels - Part 3: Technical delivery conditions for semi-finished products, bars, rods, wire, sections and bright products of corrosion resisting steels for general purposes
EN 10151 - Stainless steel strip for springs - Technical delivery conditions
EN 10263-5 - Steel rod, bars and steel wire for cold heading and cold extrusion - Part 5: Technical delivery conditions for stainless steels
EN 10264-4 (2002) - Steel wire and wire products - Steel wire for ropes - Part 4: Stainless steel wire
EN 10270-3 - Steel wire for mechanical springs - Part 3: Stainless spring steel wire
DIN 17440 - Chromium-nickel austenitic stainless steel

| Elements | Min.(≥) | Max.(≤) | Similar | Remarks |
| --- | --- | --- | --- | --- |
| C | 0.05 | 0.15 | | |
| Si | - | 2.00 | | |
| Mn | - | 2.00 | | |
| P | - | 0.045 | | |
| S | - | 0.015 | | |
| Cr | 16.00 | 19.00 | | |
| Mo | - | 0.08 | | |
| Ni | 6.00 | 9.50 | | |
| N | - | 0.11 | | |
Mechanical properties of grade X10CrNi18-8, 1.4310, 301, 301S21, Z12CN17-07 EN 10088-1
Yield Strength,Rp 0.2(MPa)
| Condition | Min | Max | Similar | Note |
| --- | --- | --- | --- | --- |
| | 195 | | 400 N/mm2 | |
Tensile Strength,Rm(MPa)
| Condition | Min | Max | Similar | Note |
| --- | --- | --- | --- | --- |
| | 500-750 | | 710 N/mm2 | |
Impact,Kv/Ku(J)
| Condition | Min | Max | Similar | Note |
| --- | --- | --- | --- | --- |
Elongation,A(%)
| Condition | Min | Max | Similar | Note |
| --- | --- | --- | --- | --- |
| | 45 | | | |
Reduction of area,(%)
| Condition | Min | Max | Similar | Note |
| --- | --- | --- | --- | --- |
Hardness
| Condition | Type | Min | Max | Similar | Note |
| --- | --- | --- | --- | --- | --- |
| | HB | | 230 | | |
Physical properties of grade X10CrNi18-8, 1.4310, 301, 301S21, Z12CN17-07 EN 10088-1
| Density(kg/dm3) | Note |
| --- | --- |
| 7.9 | |
| Electrical resistivity at 20°C (Ω mm2/m) | Note |
| 0.73 | |
| Magnetizability | Note |
| slight | |
| Thermal conductivity at 20°C (W/m K) | Note |
| 15 | |
| Specific heat capacity at 20 °C (J/kg K) | Note |
| 500 | |
| Thermal expansion (K-1) | Note |
| 20 – 100 °C: 16.0 x 10-6 | |
---
1.4310 is essentially a leaner version of 1.4301, which as a result of its combination of high chromium and restricted nickel content, produces a metastable austenitic structure which will work harden / strengthen very rapidly when subjected to cold deformation. Since this steel is used for the production of spring components, the final microstructure will contain a significant amount of shear induced martensite and as such will be relatively magnetic.
Heat treatment and mechanical properties
Optimal material properties are realised after solution annealing in the temperature range 1000 °C – 1100 °C followed by rapid cooling in air or water. Since this grade of steel is susceptible to precipitation of chromium carbides, care must be taken to limit the time spent in the temperature range 450 °C to 850 °C, both during fabrication and service. In the solution annealed condition, the following mechanical properties may be attained when testing in the longitudinal direction:
Applications
Automotive industry,Various corrosion resisting spring components,chemical industry,food and beverage industry,electronic equipment
Elevated temperature properties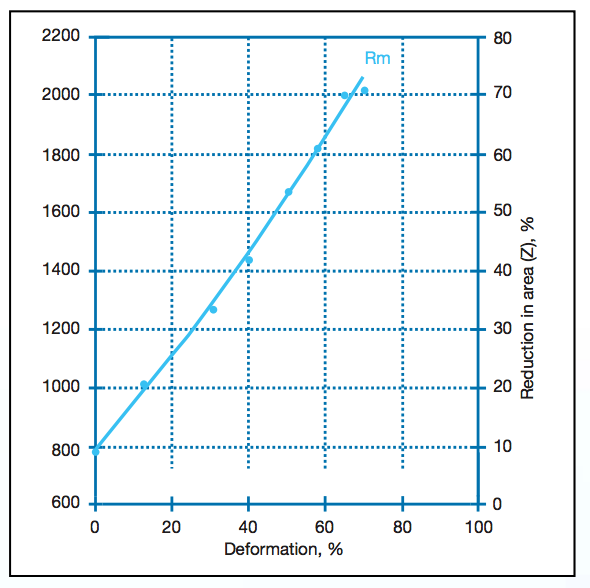 Welding
Since 1.4310 is primarily used for the production of springs, there is generally no requirement for welding. Should welding be required, however, 1.4310 is weldable with or without the use of filler material. If the use of a filler metal is required, then the use of Novonit 4316 (AISI 308L) would be recommended. A maximum interpass temperature of 200 °C must be adhered to. Post weld heat treatment is not necessary. Please note that welding of cold worked components will result in the welded zone displaying significantly reduced mechanical properties compared with the rest of the weldment.
Forging
1.4310 is usually heated to within the range 1150 °C – 1180 °C to allow forging to take place at temperatures between 1200 °C and 900 °C. Forging is followed by air cooling, or water quenching when no danger of distortion exists.
Machining

The combination of low thermal conductivity and extremely high work hardening rate serves to make 1.4310 difficult to machine. The following cutting parameters are thus proposed as a guideline when machining NIRO-CUT® 4310 using adequate cooling and coated hard metal cutting tools.

| Product type | Products | Dimension | Processes | Deliver Status |
| --- | --- | --- | --- | --- |
| Plates / Sheets | Plates / Sheets | 0.08-200mm(T)*W*L | Forging, hot rolling and cold rolling | Annealed, Solution and Aging, Q+T, ACID-WASHED, Shot Blasting |
| Steel Bar | Round Bar, Flat Bar, Square Bar | Φ8-1200mm*L | Forging, hot rolling and cold rolling, Cast | Black, Rough Turning, Shot Blasting, |
| Coil / Strip | Steel Coil /Steel Strip | 0.03-16.0x1200mm | Cold-Rolled & Hot-Rolled | Annealed, Solution and Aging, Q+T, ACID-WASHED, Shot Blasting |
| Pipes / Tubes | Seamless Pipes/Tubes, Welded Pipes/Tubes | OD:6-219mm x WT:0.5-20.0mm | Hot extrusion, Cold Drawn, Welded | Annealed, Solution and Aging, Q+T, ACID-WASHED |
| Grade | Standard | Country | Application |
| --- | --- | --- | --- |
| X10CrNi18-8 | AWS | Germany | Stainless steels - Part 1: List of stainless steels |
| 1.4310 | AWS | Germany | Stainless steels - Part 1: List of stainless steels |
| X10CrNi18-8 | B.S. | UK | Steel wire for mechanical springs - Part 3: Stainless spring steel wire |
| 1.4310 | B.S. | UK | Steel wire for mechanical springs - Part 3: Stainless spring steel wire |
| X10CrNi18-8 | AFNOR | France | Steel wire for mechanical springs - Part 3: Stainless spring steel wire |
| 1.4310 | AFNOR | France | Steel wire for mechanical springs - Part 3: Stainless spring steel wire |
| X10CrNi18-8 | ISO | International | Stainless steels - Chemical composition |
| X10CrNi18-8, 1.4310, 301, 301S21, Z12CN17-07 | EN | European | Steel wire for mechanical springs - Part 3: Stainless spring steel wire |
| Y1Cr18Ni9 | GB | China | Improve the machinability, ablation resistance. Suitable for automatic lathe production of bolt and nut |
| 1Cr18Ni9 | GB | China | High strength after cold forming, but elongation than 1 cr17ni7 slightly worse. Used in architectural decoration parts |
| 1Cr18Mn10Ni5Mo3N | GB | China | Of urea with good corrosion resistance, can produce urea corrosion of the equipment. |
| 1Cr17Ni7 | GB | China | High strength after cold forming. Used in railway vehicle, conveyor belt, bolt and nut, etc |
| Y1Cr18Ni9Se | GB | China | Improve the machinability, ablation resistance. Suitable for automatic lathe production of rivets, screws |
| 0Cr18Ni9 | GB | China | Seamless stainless steel tubes for boiler and heat exchanger |
| 00Cr19Ni10 | GB | China | Carbon content lower than 0Cr19ni9 steel, excellent intergranular corrosion resistance, is used for welding after the class is not processed parts |
| 1Cr17Mn6Ni5N | GB | China | Nickel steel grade, instead of number 1 cr17ni7 and magnetism after cold working, used in railway vehicle, etc |
| 1Cr18Mn8Ni5N | GB | China | Nickel steel, instead of 1cr18ni9 |
| 0Cr19Ni9N | GB | China | Based on 0cr19ni9 plus N, strength increase and the plastic is not down. Reduce the thickness of the material. As a structure with strength components |
| 0Cr19Ni10NbN | GB | China | Based on zero cr19ni9 plus N and Nb, with better than 0 cr19ni9 properties and USES |
| 00Cr18Ni10N | GB | China | In 00cr19ni10 adding N, on the basis of the above grades also features, use the same as the 0 cr19ni9n, but better intergranular corrosion resistance |
X10CrNi18-8, 1.4310, 301, 301S21, Z12CN17-07 Steel Stock